We offer an enhanced access unit that serves special needs users. This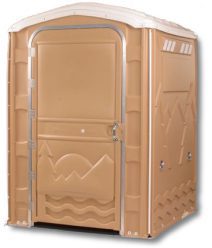 restroom features a larger floor area for increased access for wheelchairs and handrails on three sides for ease of use. It also features a pneumatic self-closing door. Windmill Portables offers fully ADA compliant units as well.
What is the difference between Handicap Accessible and ADA compliant Restrooms?
The Handicap Accessible restroom offers a slightly compact alternative to fully ADA compliant restrooms. ADA compliant restroom requires a full 60" turning radius inside the restroom, as well as sufficient handrails and seat access. The ADA requires that at all public gatherings where restrooms are provided at least one shall be handicap accessible.
Dimensions:
Height- 86.5"
Base- 61"x 61"
Wight- 280lbs
Door Opening 35.5"x73"